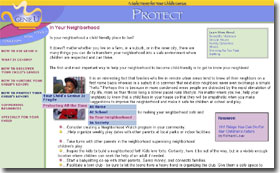 Protect Your Child's Genius
Your child is born a genius. Each step you take from the moment of their birth is crucial to preserving their special gifts and talents. You are your child's best advocate and the most important job you will ever do is to keep their genius alive and protected.

Find out how to speak up for your child when situations develop that require your intervention; discover the fabulous support services that are available to help you address your child's special needs and talents; and connect with other parents who are striving to provide a genius education for their children.
"In time, I realized that this spark of genius is smothered by those who nurture, educate and love us the most - our parents, families, teachers and friends. Whether carelessly, maliciously, innocently or ignorantly, this spark can be snuffed out."

–Robert T. Kiyosaki

Learn to trust your instincts that you know what is best for your child, and then find the knowledge and tools to support those feelings.
Recognize your child's passions and encourage their success in life by committing your time and effort to learning how to protect their special genius in today's ever-changing world.
Next: Learn More About the Benefits of becoming a member of the Genius Center.